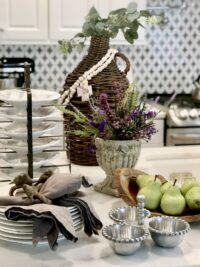 Ready to say goodbye to winter and hello to sunnier days? Ready to welcome spring? How about a weekend brunch anyone? Or maybe tea and scones in the afternoon? At The Hickman House we made a short list of easy ways to create a fresh, springtime look and feel. Get ready to open the windows, invite friends over, listen to the birds chirp, and let the sunlight in!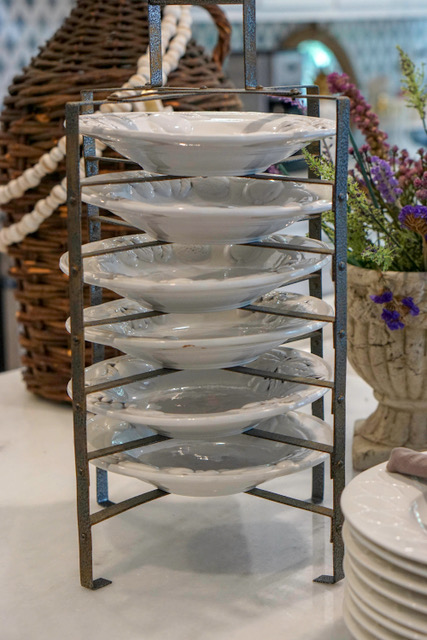 WHITE DISHES
One of the things we love at The Hickman House about white dishware is that you can find it anywhere from low end to high end. Then you can mix and match it all. Here at this serving station we have pretty dishes designed with a beautifully raised fruit-and-vine motif around the edges. Believe it or not, we found them at the Dollar Tree! We displayed them on an antique, iron plate rack I found at one of my most frequented home design stores, Casabella. We used this combo as part of our backdrop decor to bring both beauty and height to our vignette. Then we stacked simple, plain, unadorned white dishes for guests to use. The more splashes of white you can add to your home the better if you want it to feel light and airy. Here the white cabinets in my friend Jennifer's beautiful kitchen set the scene perfectly for us.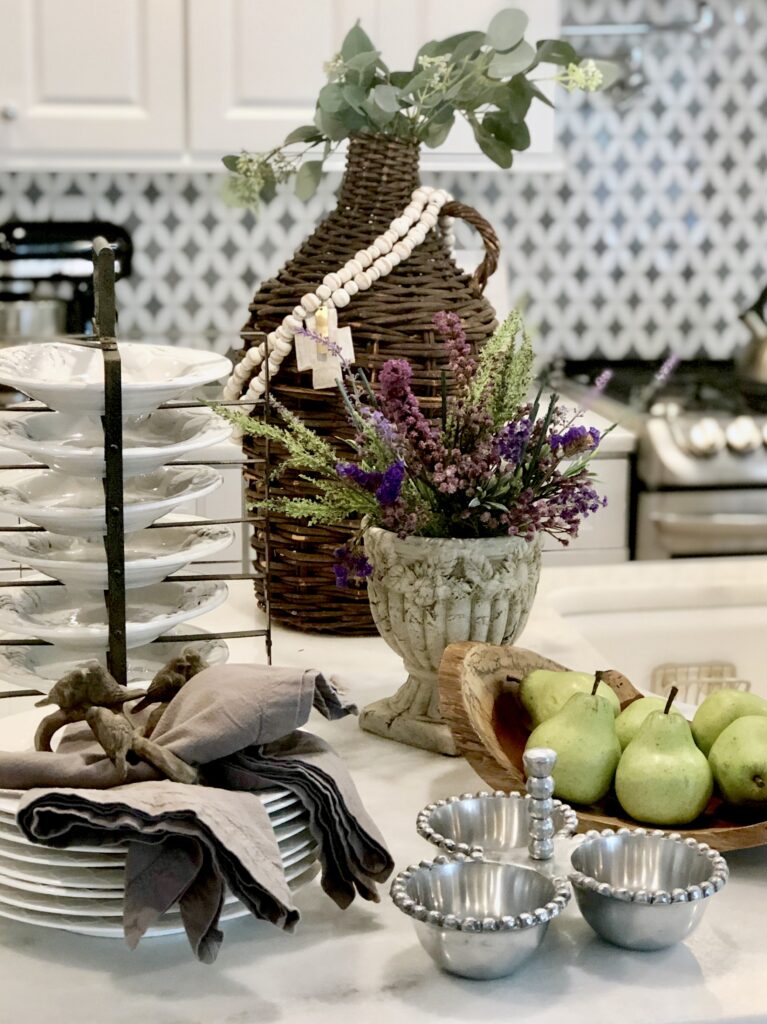 FRESH FRUIT
Nothing says natural and delicious like a bowl of fresh fruit. Here we filled a wooden bowl brought back from a memorable trip to Costa Rica with bright green pears that give a pop of color. A bowl of fresh fruit can be an easy alternative to a floral centerpiece. Remember the dinner party scene in the movie The Break Up when Jennifer Aniston sent Vince Vaughn out for the perfect number of lemons needed for her table centerpiece? I've loved decorating with a bowl of fresh lemons in my kitchen ever since! When I'm thinking "fruit decor" I often color coordinate to keep things restful for the eye. For example, I'll pair avocados with limes or pears with green apples. A colorful, citrus mix of lemons, limes, and mandarins in a big bowl with some eucalyptus leaves also makes a festive centerpiece. Pomegranates can be luscious and pretty to decorate with as well.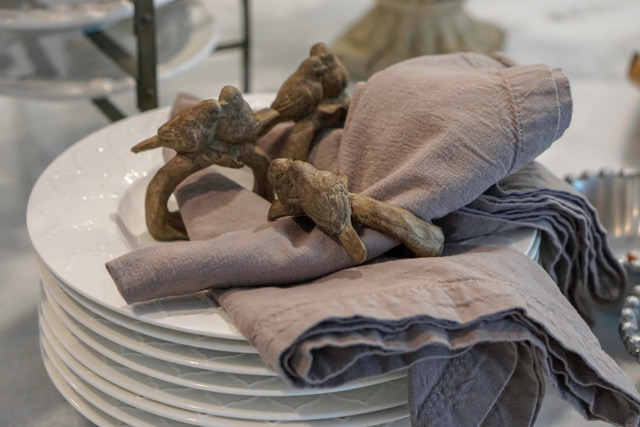 LINEN NAPKINS
Don't skimp on collecting some decorative cloth napkins. It's true that the little luxuries make a huge difference. Taking the time to serve with "formal" napkins brings thoughtfulness and graciousness to any occasion. Plus, it's an easy way to live green! Don't get me wrong. I do have a stack of beautiful paper napkins with interesting designs and colorful patterns stashed in my pantry. Party City always has prints I love! I use them when my teenage girls are having friends over or maybe for family pizza nights etc. However, if I am serving dinner for family and friends or having girlfriends over for brunch, I so enjoy going into my collection of kitchen linens and creating the perfect place setting. Here at our serving station we used simple, gray linen napkins with decorative napkin rings made of ceramic pottery both of which I also found at Casabella. It's as if delicate spring birds have arrived and have alighted gently on top of each folded, linen napkin. If you don't have napkin rings you can find creative ways to separate each napkin. For example, you could always tie a tiny piece of twine into a pretty bow around each one. Maybe even place a twig of fresh rosemary inside each bow as well? It's the special little touches that show your hospitality.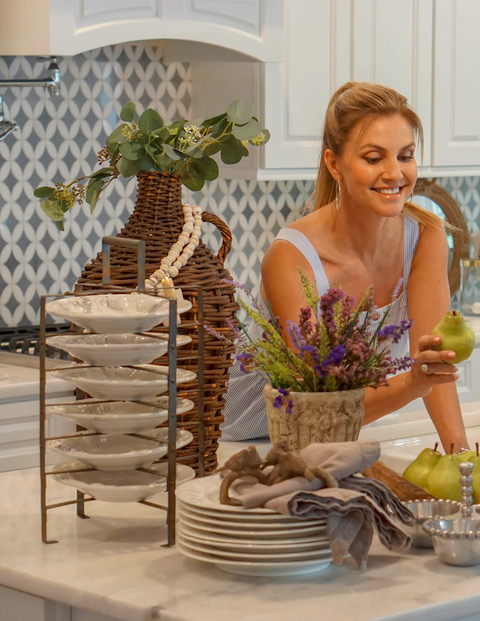 NATURAL MATERIALS
It's important to use a mix of natural elements to keep your decor feeling both collected and spontaneous. We chose an antiqued French winery rattan basket from Pottery Barn to mimic an afternoon picnic basket. We draped some trending white, wooden beads around it to make our "indoor picnic" a little more upscale. Our stone vase we used for our floral arrangement mimics the weathered yet sophisticated stone of a garden fountain. Our large, polished wooden bowl mimics the rings you'd see within the stump of huge tree trunk in a forest. Then to keep things from getting too rustic, we mixed in the crisp, clean, white dishes and the pewter serving piece. It's shiny metal patina is the perfect juxtaposition to our other warm, natural elements.
So now we have the backdrop ready to greet our friends and welcome spring! If you really want to go the extra mile in creating a certain kind of atmosphere then feel free to coordinate your dress with your decor. In my case I pulled out my J Crew blue pin-striped, seersucker sundress. Adrian went with a sky blue linen button-up and the classic white tee. All we need now is the quiche and the mimosas. Brunch anyone?
Images by Nichole Crosier Photography