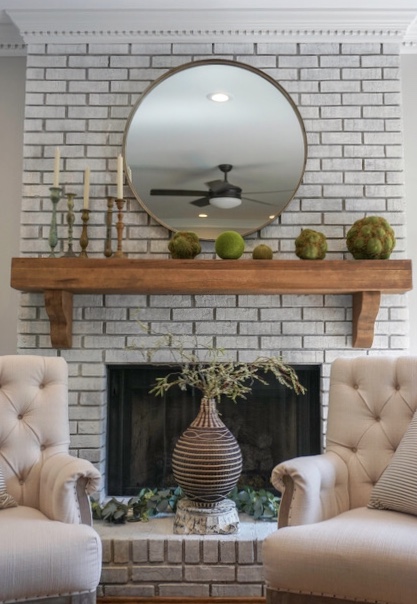 How do you decorate a mantle with simplicity without it looking bare or boring? For the minimalist who still wants some decor "flare" it can be hard to split the difference. At the home of one of my "style-icon friends" (Thanks Jen!) we'll demonstrate how to do just that.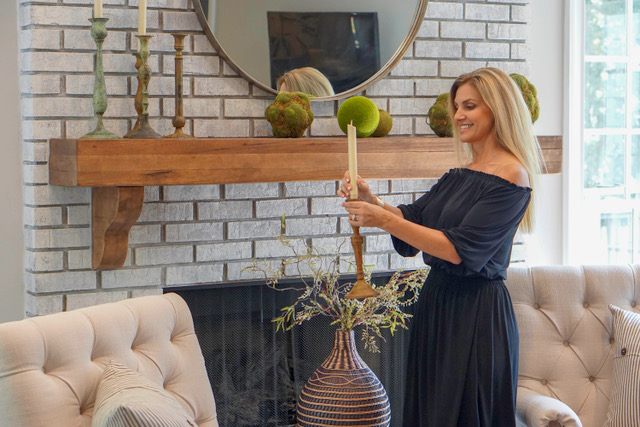 1 Find unique objects that are interesting to showcase like this collection of Adrian's candle holders, for example. They are streamlined and clean to the eye and yet each one of them has a different, aged patina to it. Their beauty is simply captivating. They all vary in heights to keep the eye pleasantly roving just a bit. Love them but don't have time to go antiquing? Get some brass candle holders at the thrift store, some paint made to distress furniture, some glaze made for "antiquing" and create your own collection.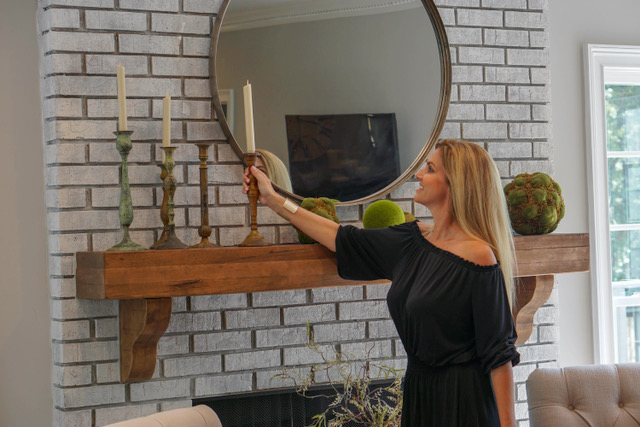 2 Have a centerpiece on the wall above the mantel. It can be leaning against the wall or hung. Whether rectangular, square, or round, the largest object over a mantle needs to be placed directly in the center in order to anchor the whole look. Think of it as your backdrop for whatever scene you are creating. Here, this circular gold mirror from Target nicely reflects the flickering candle flames at night as well as featuring up-close the grassy texture of the moss balls strewn across the wooden mantle.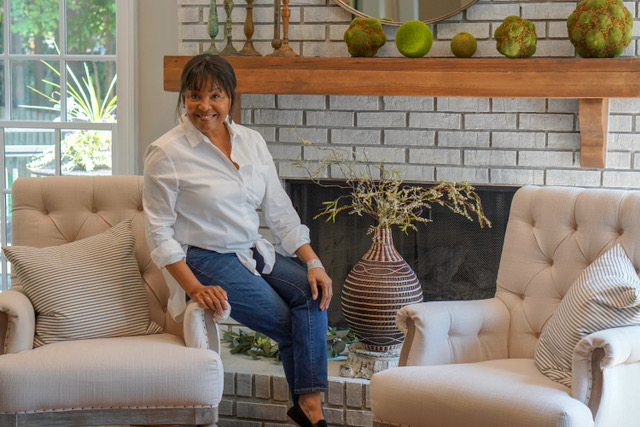 3 Balance the left side of the mantel with the right side without feeling it always has to be"matchy-matchy." Here we took our collection of moss balls of varying shapes and sizes and placed the largest one on the outer side of the mantel. Then we worked our way towards the middle with smaller ones. We wanted to "connect" the two sides of the mantel so the eye moves smoothly from one side of our "scenescape" to the other. Although the decorative balls were placed very deliberately, the goal was for them to look as natural as if they had just rolled in straight from the greenery showcased in the adjacent window.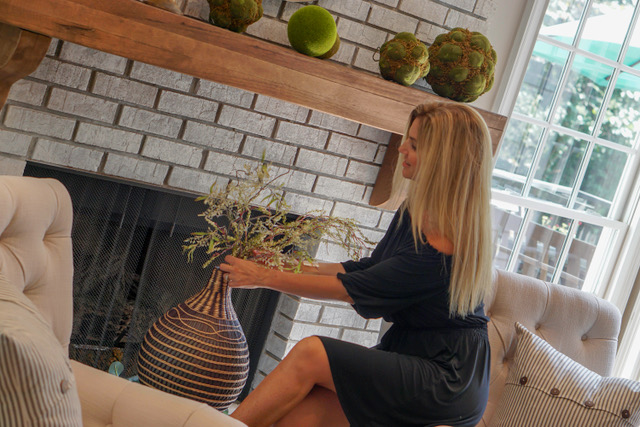 4 Don't forget about the hearth! That's like getting dressed and choosing the perfect top from your closet along with its complimenting jewelry and then forgetting to put your pants on! Here we took Adrian's large, basket vase with a natural and black print to give the whole scene a little contemporary pop while still keeping within our simple color scheme of white, natural wood, and soft greens. Touches of black here and there will ground a whole look. This vase had just the right amount of "heaviness" to sit alone on a hearth. Smaller decorations tend to get lost on a hearth so save them for the mantel and keep the chunky pieces for down below. We placed some "neutral greenery" in our vase and completed our look. If it is Fall or Winter and you want to use the fireplace, simply place your hearth decor on either side of the fireplace.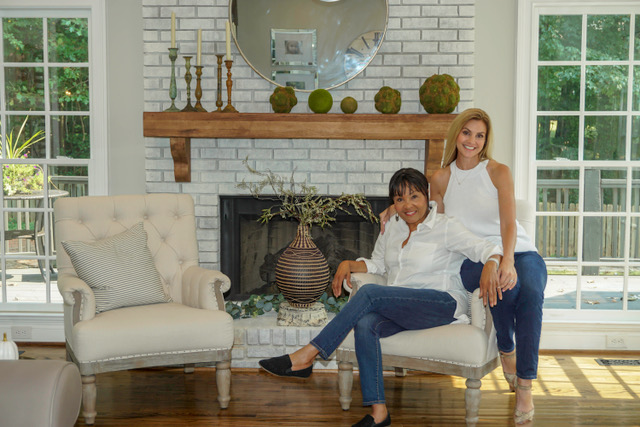 Arrange your furniture so that your mantel can be a focal point of the room. In this case, Jen's fireplace is flanked by comfy, inviting chairs that add to the serenity of the room. We added my Pottery Barn cream and brown ticking pillows to tie this scene all together.
Lastly, look at your mantel as your own personal work of art. You can change it seasonally or any time you are ready to create a new "scenescape". Now invite your friends over for some good hang time and enjoy your new art work. Or better yet, grab a good book or favorite magazine and admire your creation in quiet solitude. At The Hickman House, we love decorating mantels in all different genres of styles. We have a lot more ideas we will share so stay tuned!
Images by Nichole Crosier Photography