Our client in Marietta, GA moved into her new house with little to no furniture but with lots of vision and excitement for the future of her new home. Upon request, the owner left the previous dining table and so we began designing this space with a base to work around. We created a "cozy feel"using soothing greens, grays, and blues. We incorporated her family heirloom Grandfather Clock as well as art from the Dominican Republic painted by her aunt. We chose a white china collection to create an accent wall to go along with her mother's white China tureen as our table centerpiece. We displayed our client's enjoyment of entertaining and her fondness for her family at the same time. She loved it!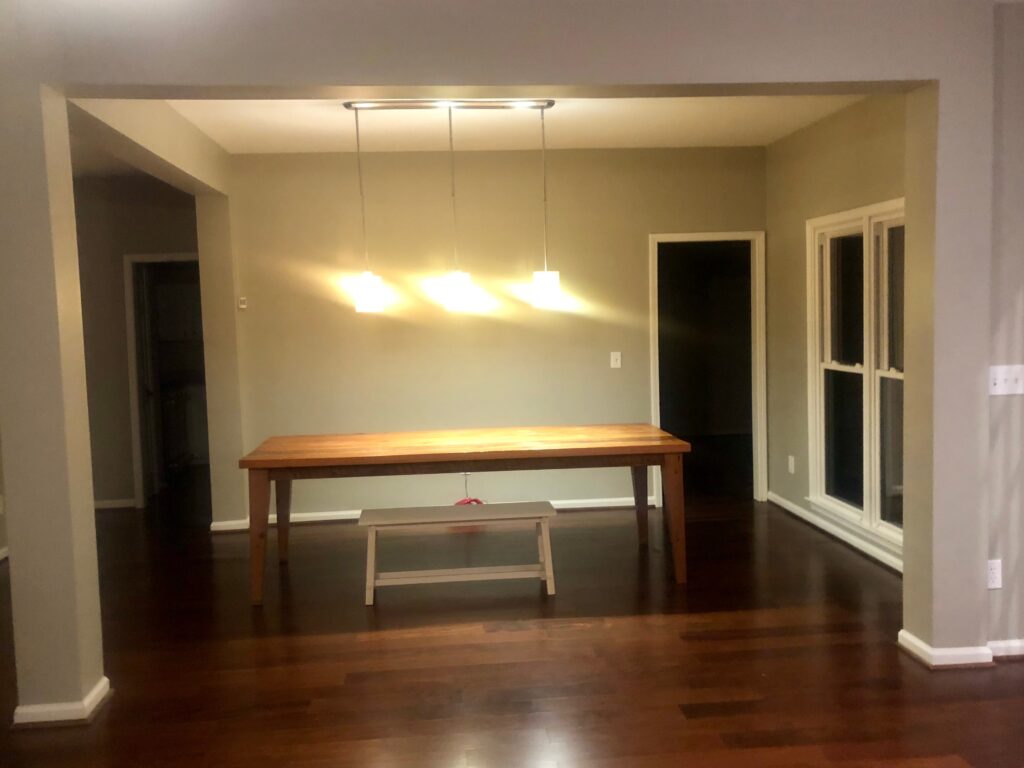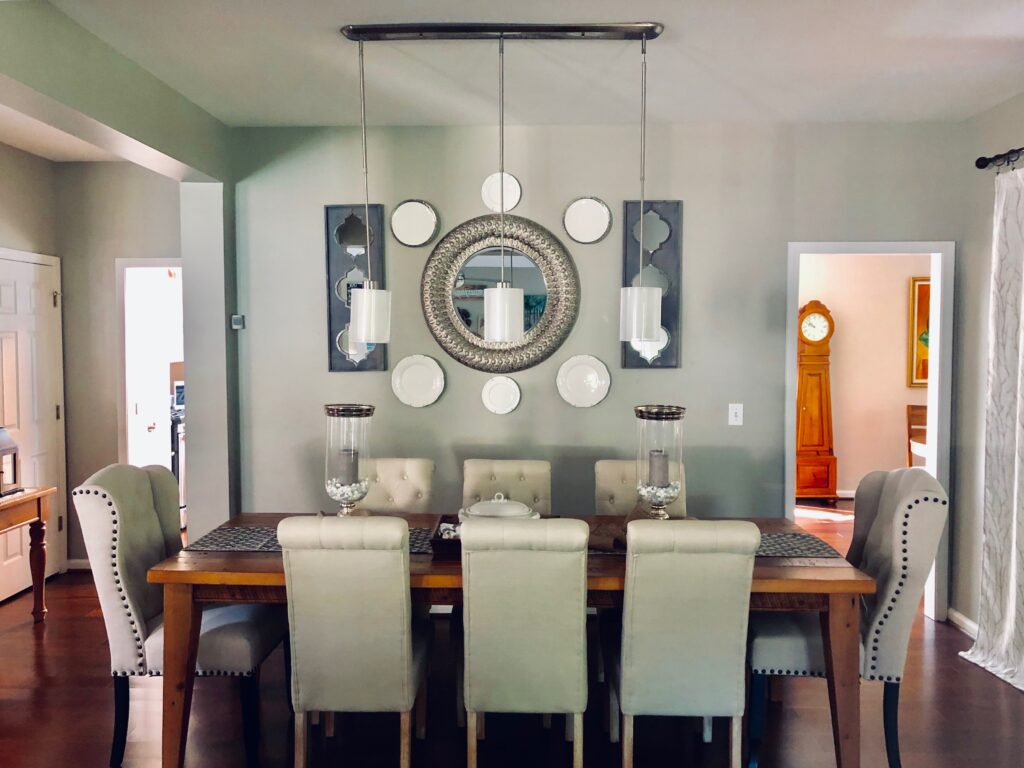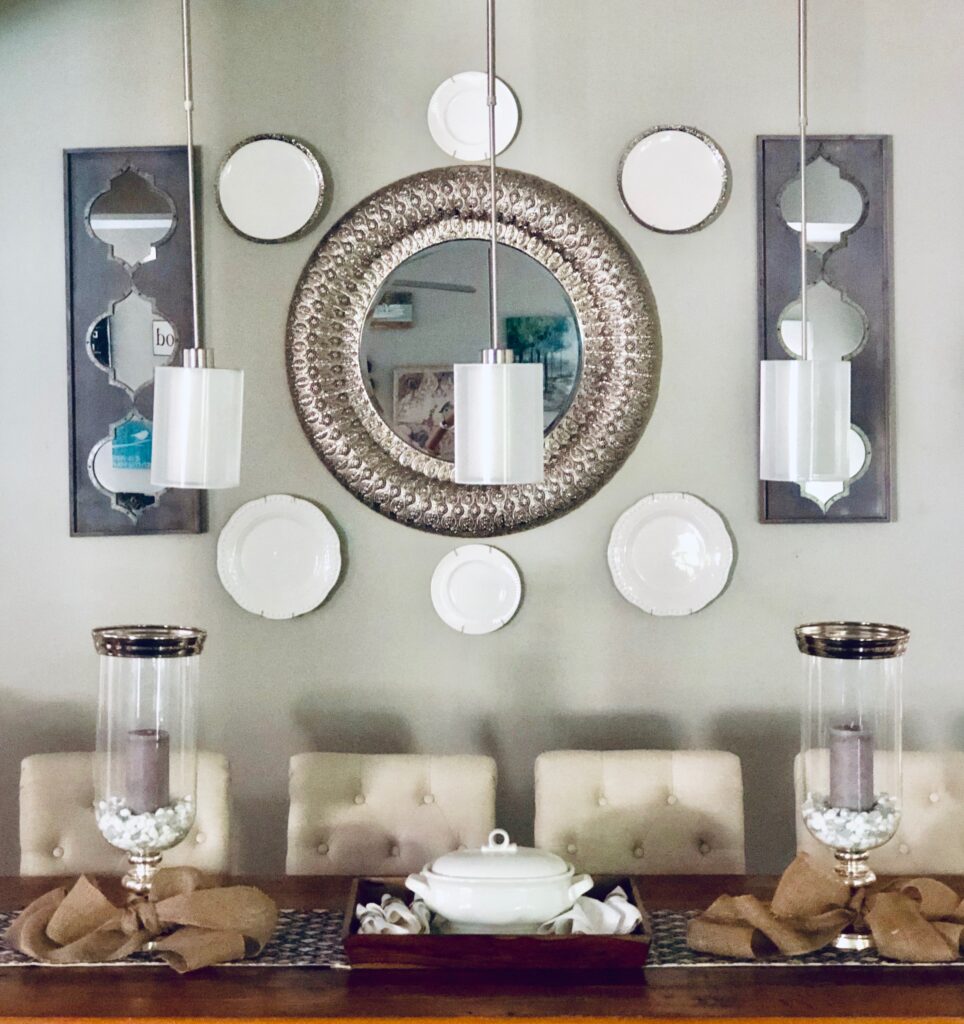 Adjacent to our client's dining area is her living room space. Since it is also connected to her sun room where the lush GA greenery is showcased most of the months of the year, she wanted the feel of peaceful and restful nature to continue to flow throughout the whole downstairs floor plan. We used fresh colors, tufted chairs, a sturdy over-sized couch lined with a variety of gentle yet textured pillows, a fluffy reading chair you can sink into, a wooden family chest full of extra floor pillows, along with several, soft, knitted throw blankets for watching TV or just relaxing and listening to the birds. We then showcased a menagerie of wall art hand picked by our client.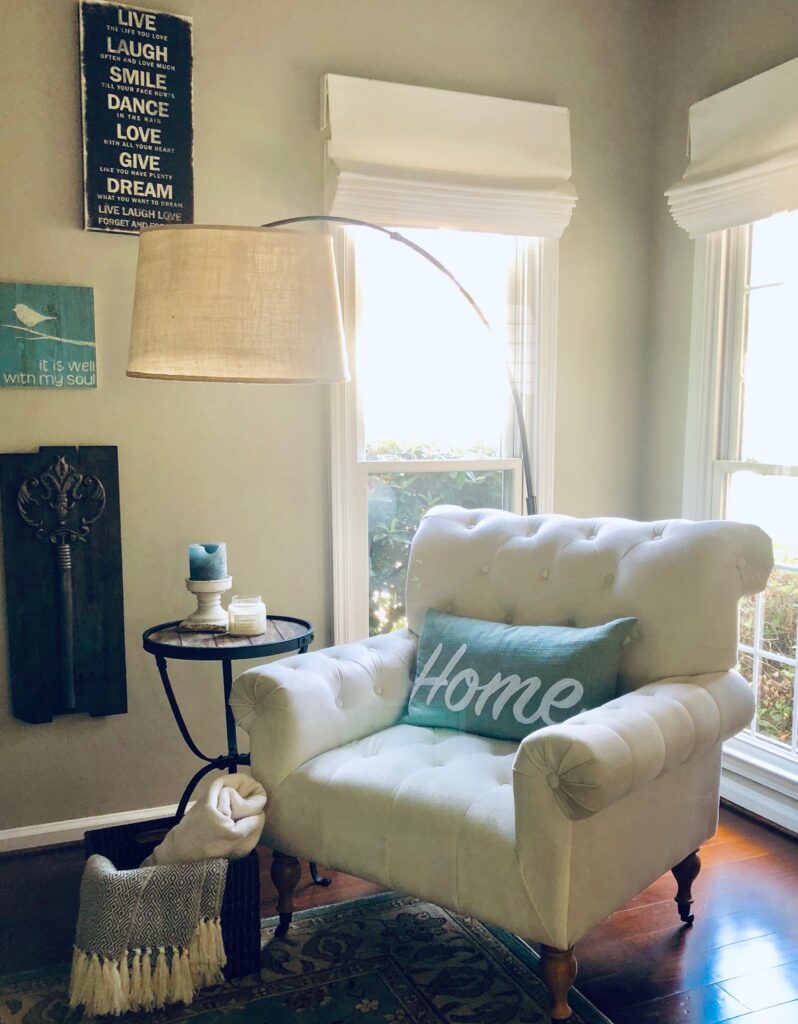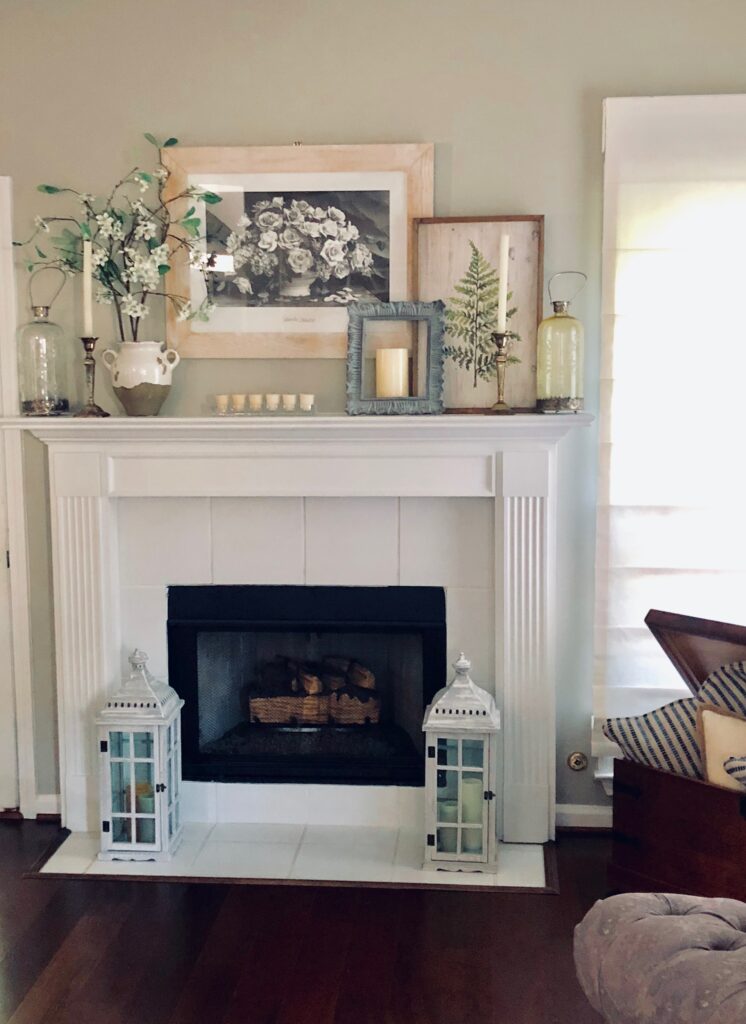 We flanked the once bare fireplace with lanterns, an antique silver candelabra, antique glass, standing sconces, pottery, and more visions of nature. It flows seamlessly from the indoors to the outdoors and creates the exact kind of relaxed gathering spot she wanted.
For Paola's breakfast nook adjacent to her kitchen, we placed a circular dining set made of rich wood that well accompanied the heirloom Grandfather clock near by. We removed the TV hardware mounted above the fireplace and added a backdrop more suited to bring warmth and coziness to the space. Paola chose the barn painting which helped us to know the feel she wanted this room. To fill up the corner we added a rolling bar cart on which we included her mother's vintage pewter tea set and exquisite, heavy, crystal decanters as well. Lastly, we found the perfect vintage ceramic pitcher at local flea market to pull it all together.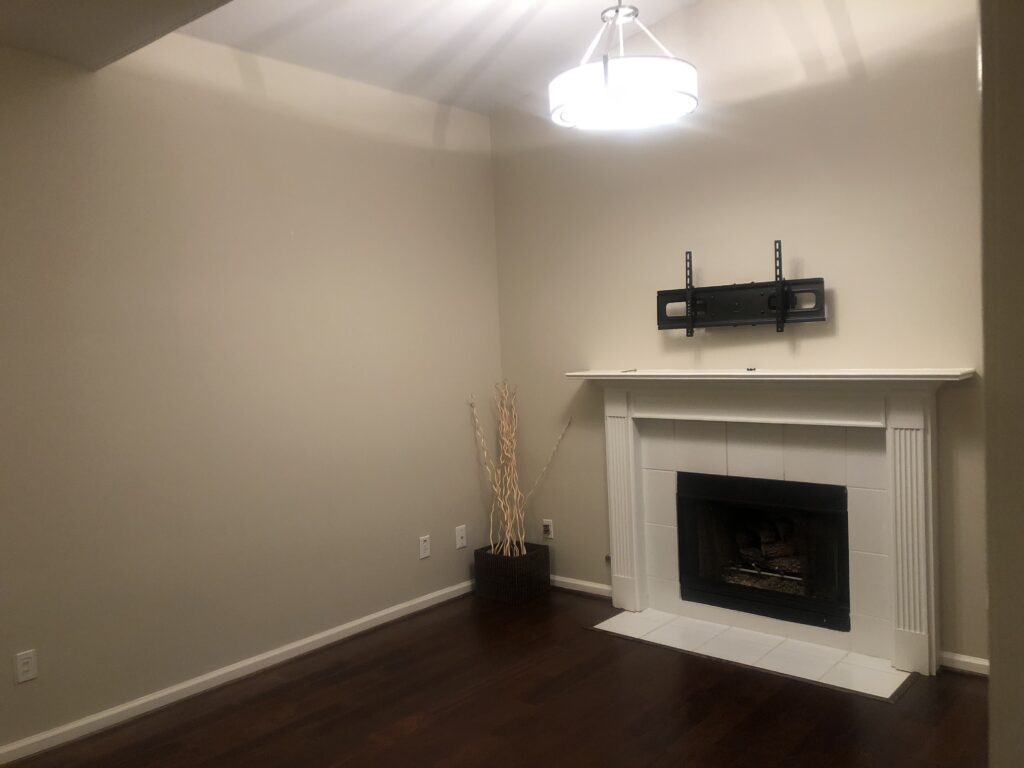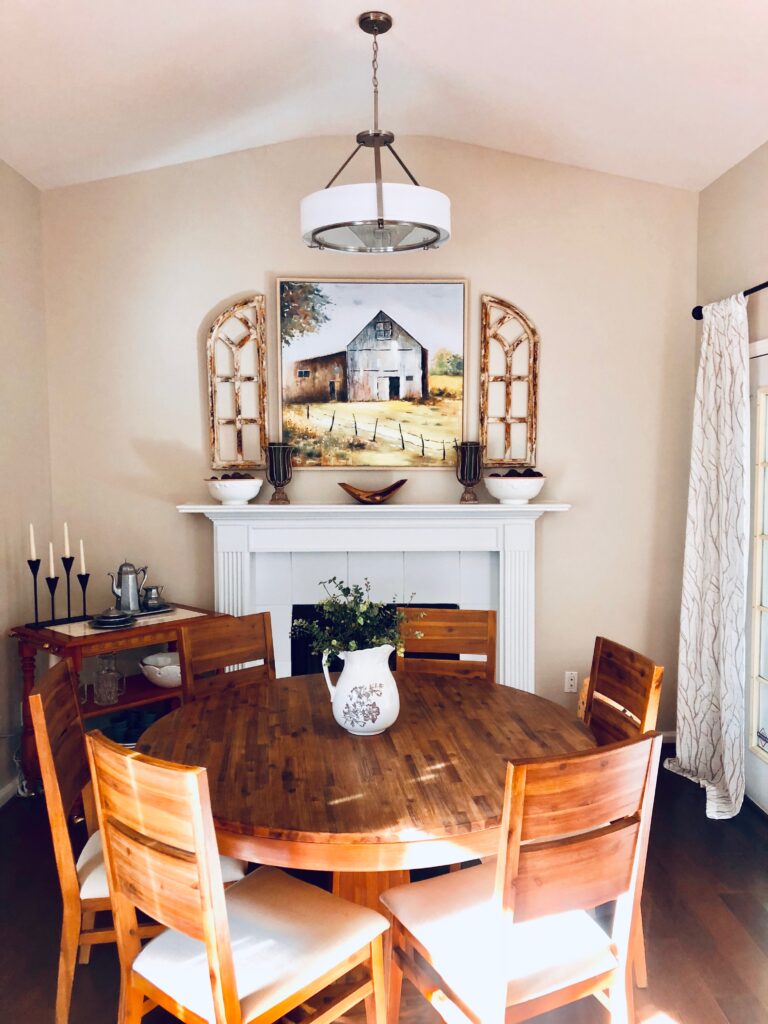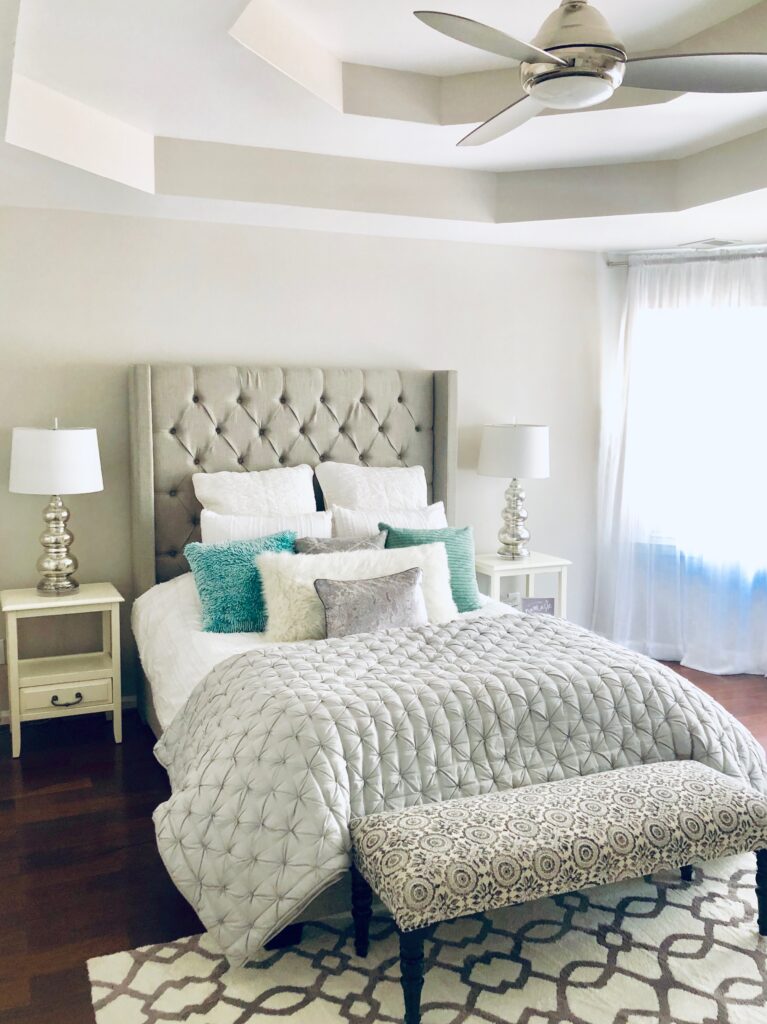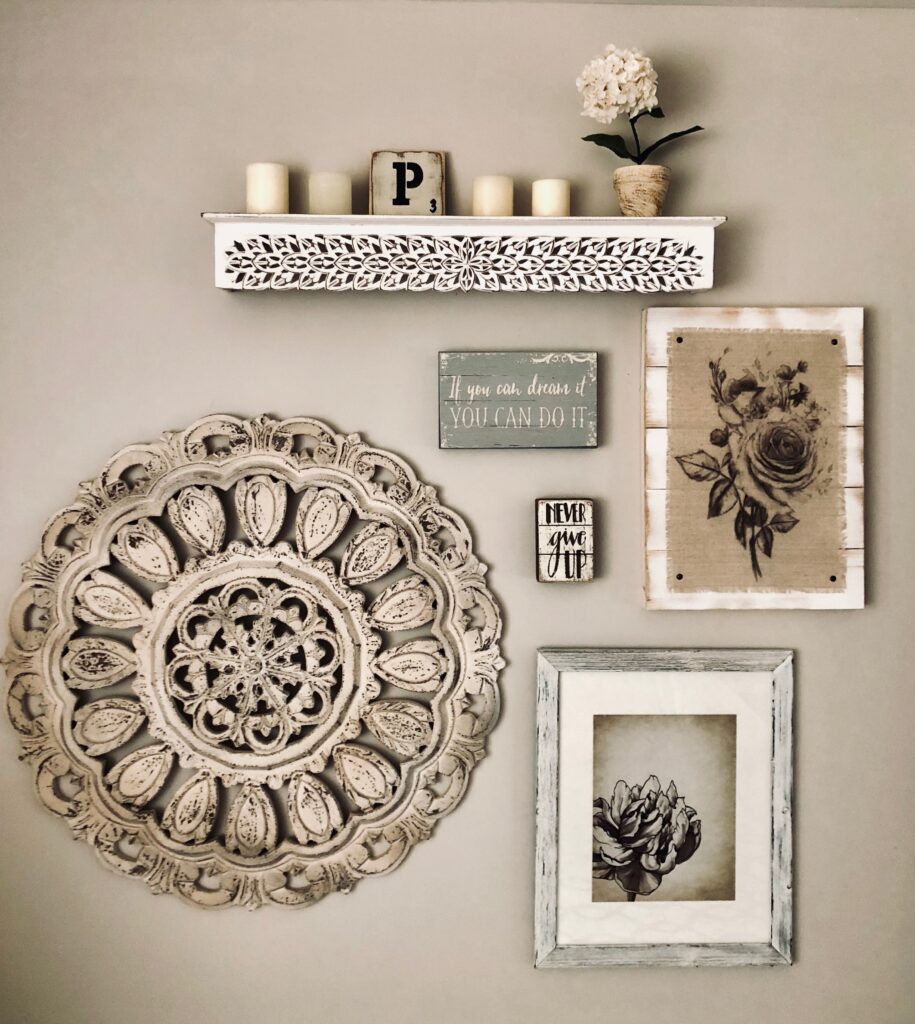 Upstairs in the master bedroom, we kept things dreamy and feminine. We chose an oversized, tufted headboard and piled layers and layers of fluffy, fuzzy pillows on the bed. The elegant bench at the foot of the bed is the perfect spot to lay the extra pillows when it's time to drift away to Never Never Land. We finished the space off by arranging another "inspiration wall" with sentiments our client loved. Then, maybe best of all according to Paola, we made sure she had stylish shelf space for her love of good books! This HOUSE had now become a HOME just waiting to be "lived in!"