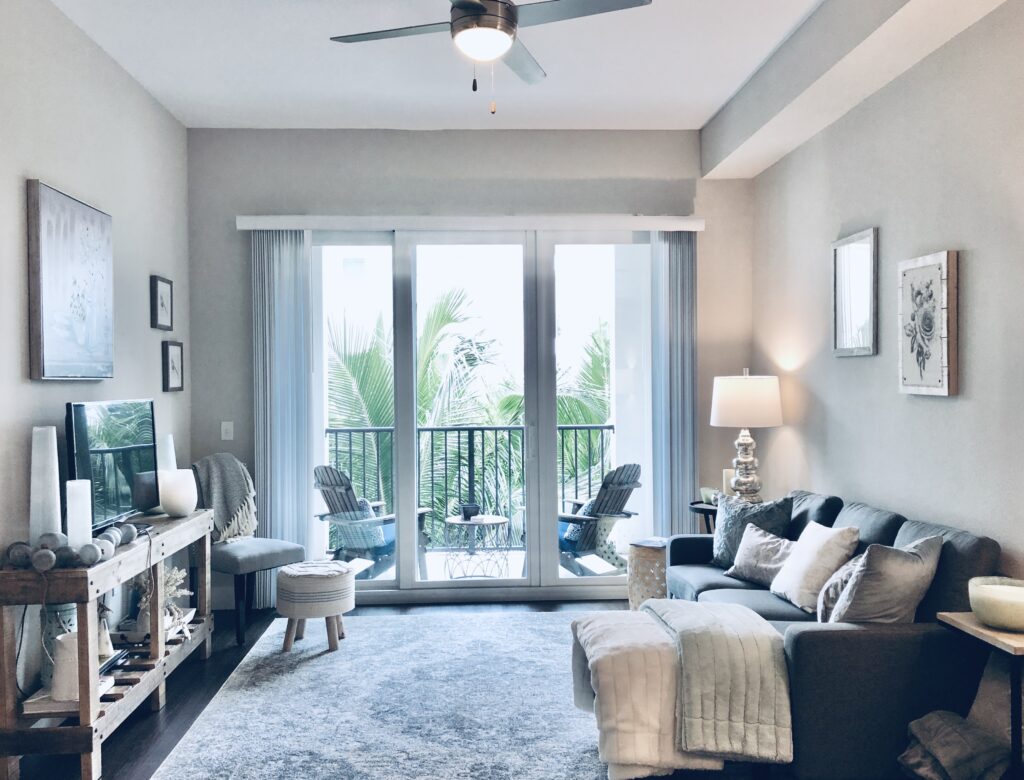 Our client in FLA rented a "vacay spot" condo and requested The Hickman House travel down to create a cozy home away from home. She wanted to bring her love of cottage decor into her temporary rental. We chose a soft palette of blues, grays, and greens to embrace a subtle beach vibe sans anchor prints or nautical stripes.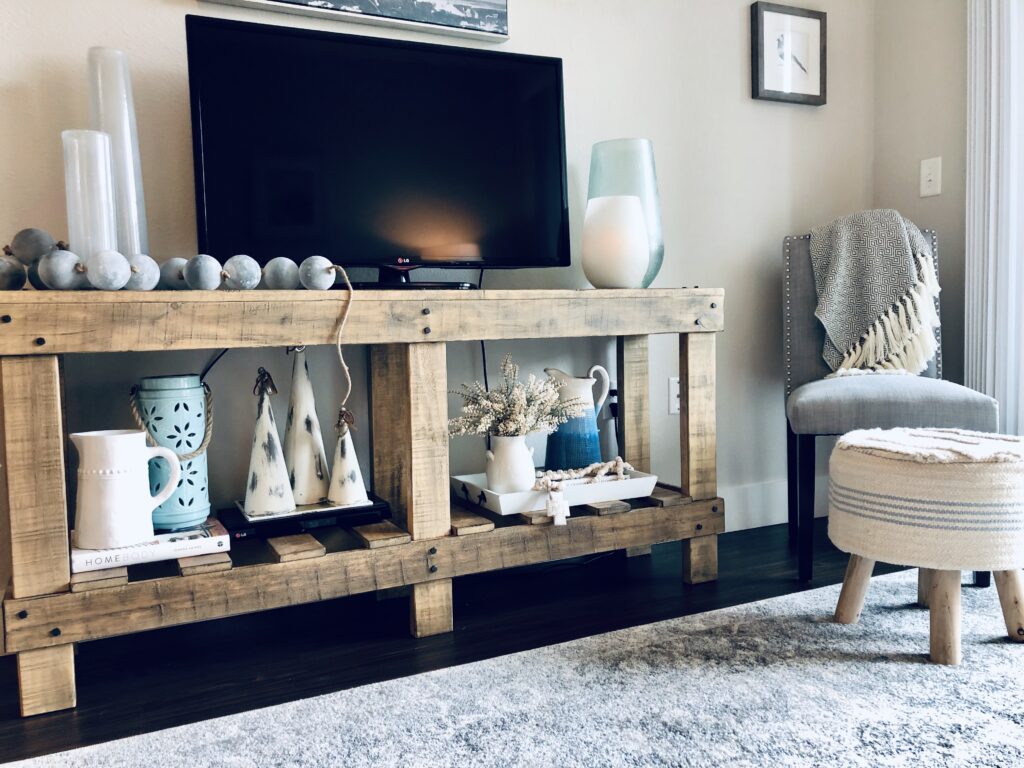 On the console table, we decided to bring in the romance of the nearby ocean with an assortment of sea glass vases that shimmer when candlelit in the evening. The string of giant sea glass balls unifies the vignette. We filled the corner with a basic but beautiful chair,a black-white patterned throw, and a wool,textured ottoman-footstool that is both beautiful and functional. This is the perfect "corner to go" that is easy to move around wherever needed in the small space and then easy to tuck nicely back in place.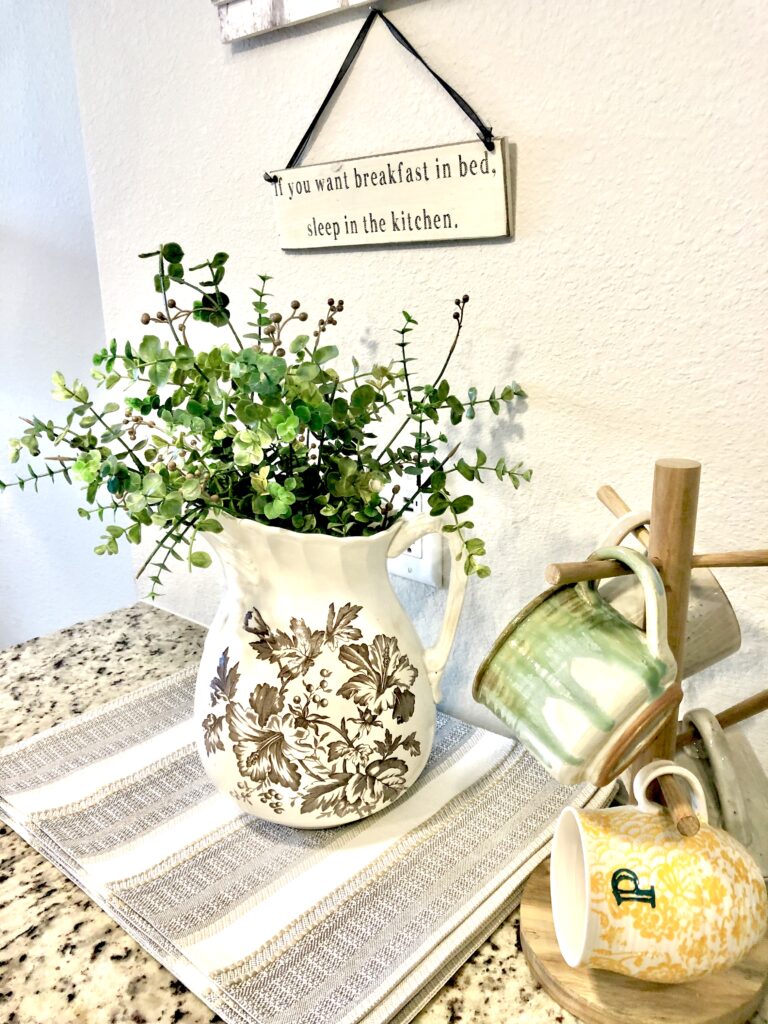 In the adjoining kitchen and dining area, we highlighted another antique serving pitcher from GA and our client's assortment of glazed pottery coffee mugs. Her hand-picked wooden signs dotted throughout the space make her smile and also help continue to create that home away from home feeling. We strategically placed her green ceramic serving pitcher against the blue kitchen tiles for the maximum impact of our color scheme. An artisan-crafted white bowl was waiting to be filled with fruit as soon as our client settled into her new place. This unique piece below, housing some feathered friends, is also a gift from her Mom. We repurposed the piece to hold our client's phone while she is spending time in the kitchen cooking or entertaining.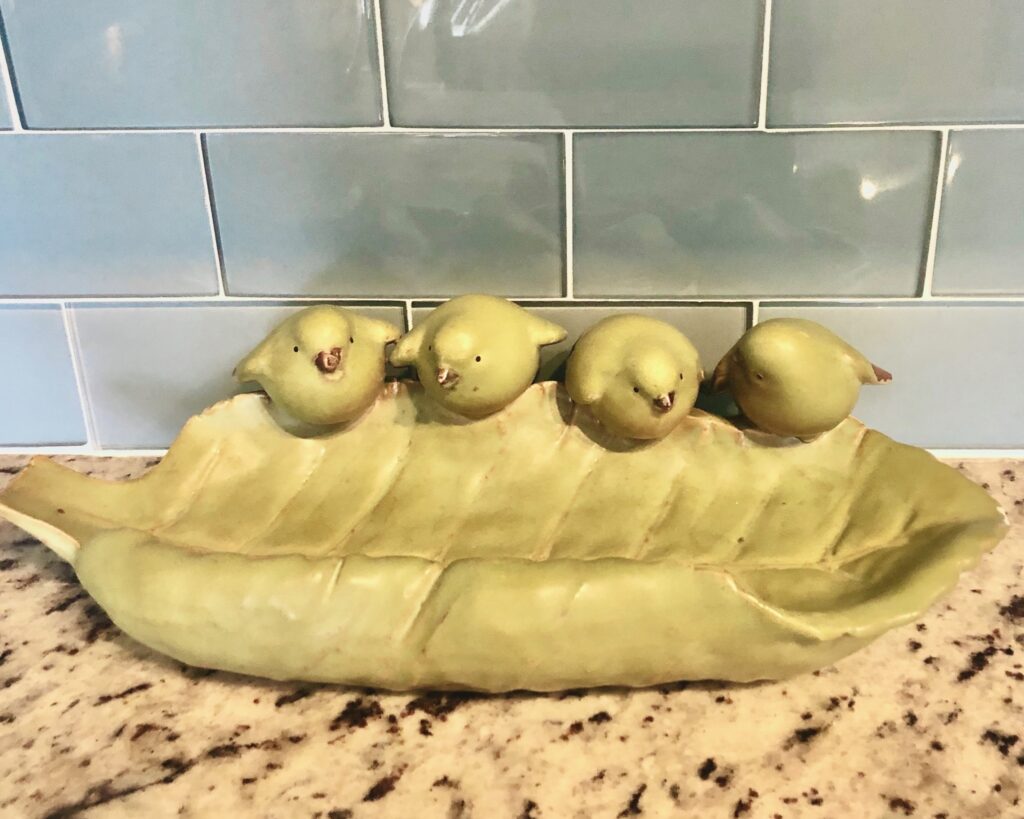 We filled nooks and crannies of the condo that provide surfaces to be used for whatever is needed at the moment whether it be a drink, a candle, or a portable speaker. We extended the "cottage feel" into the bedroom by repeating our theme of restful colors, wall florals, and plush pillows offering varying patterns and textures. We even found this dainty, bedside lamp glazed and handcrafted with intricate, three-dimensional flower petals to adorn our dreamy retreat. We forgo a headboard to simplify the small space even more. In one bedroom corner, we topped a tall, narrow dresser with a stunning, glass vase filled with faux fern fronds and allium blooms. The dresser's muted color and the unfinished texture of the wood keep the eclectic but harmonious continuity flowing from the wooden wall art to the wooden console table and throughout the other pieces with similar finishes. We completed this vignette with a bundle of antique books, a favorite picture of our client's niece and nephew, and another decorative sign to evoke a smile of relaxation.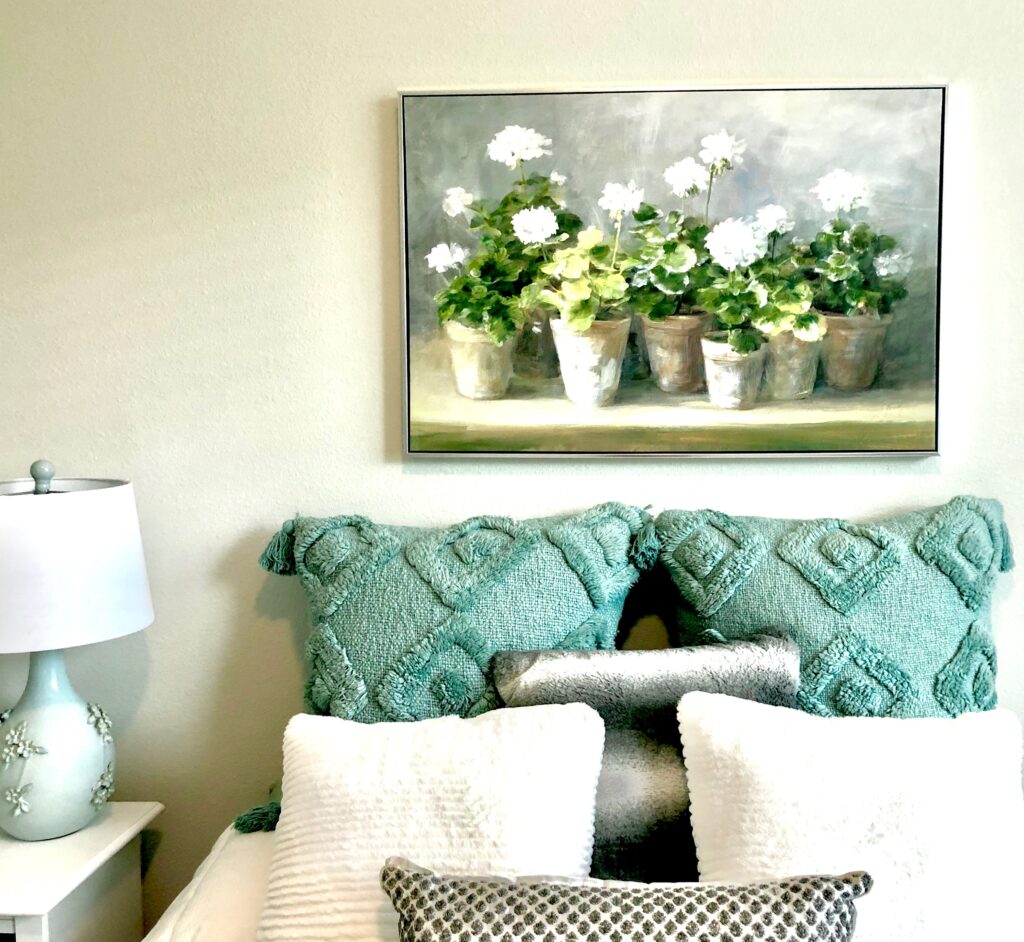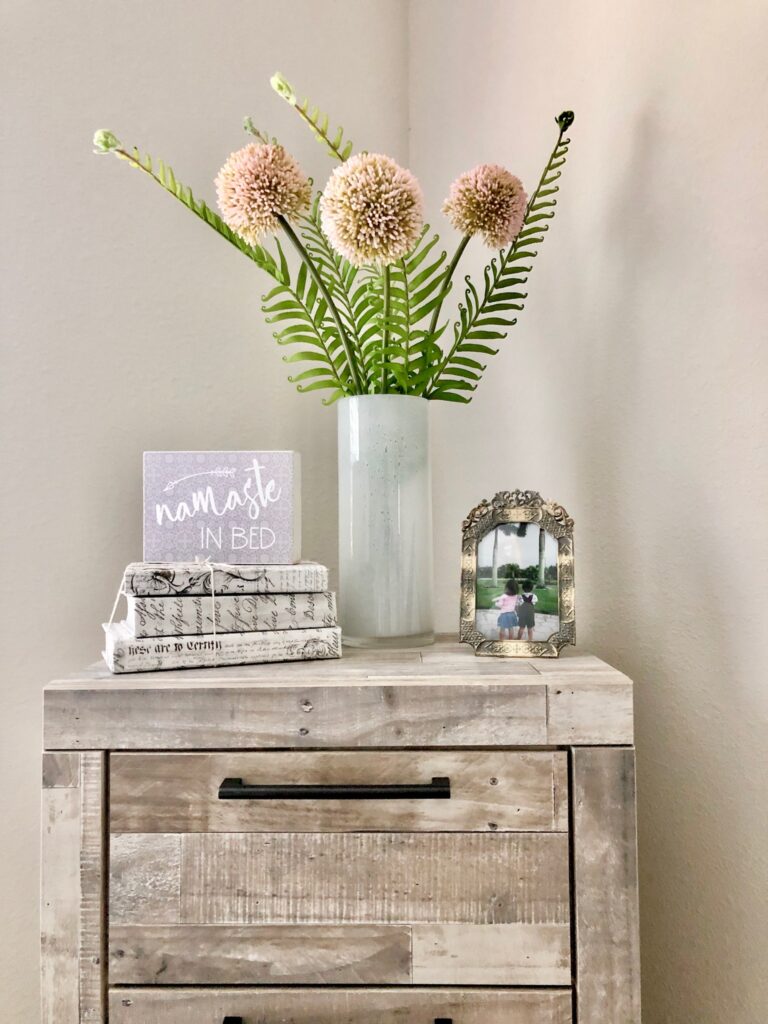 Our client requested a spot in her new place for her niece's personally painted, hand-signed Kermit The Frog piece shown below. Since we decided to let bright colors "pop" a bit more in the powder room, we created just the perfect spot for our lovable Kermit. We often find, in decorating, that the powder room is a great place for a few cheery or quirky surprises to add interest to your space. Here another feathered friend sings "All Is Well With My Soul" from the wall art. The wooden window frame is painted and distressed in a muted turquoise color. It holds a mirror that reflects Kermit's happy smile as well as the bird's joyful song. We purposed a small and delicate pottery piece shown below to serve as a tiny jewelry tray ready for guests to hold their rings as they wash their hands. To keep the cottage vibe going, we added a candle-filled mason jar and a hydrangea beauty.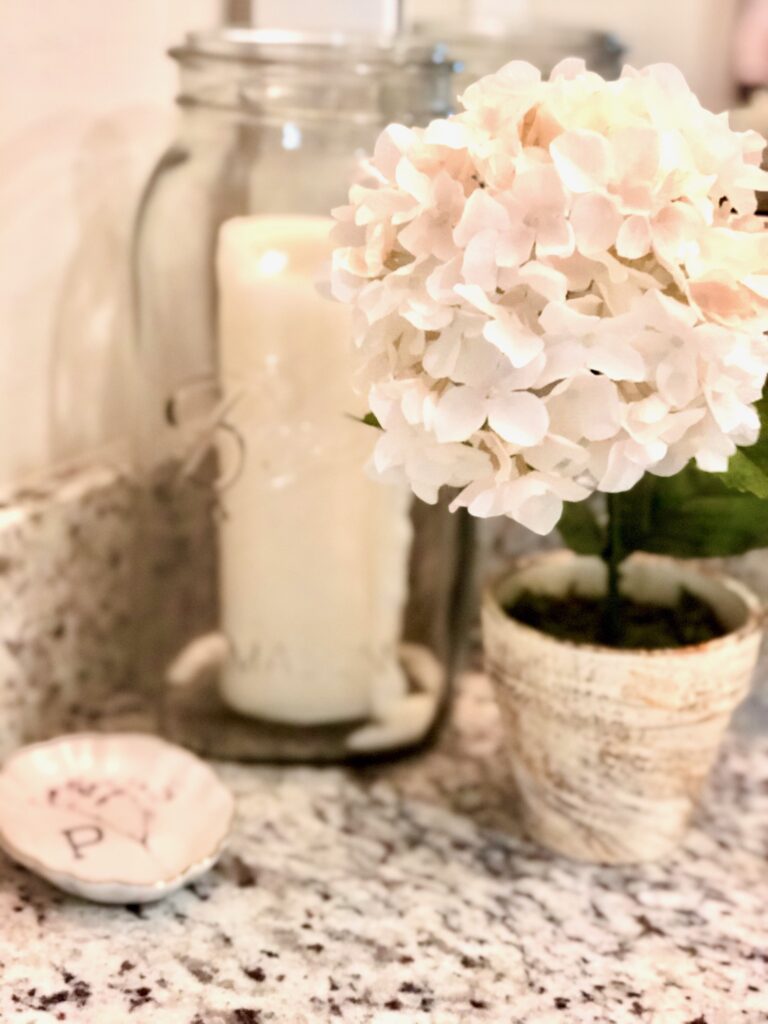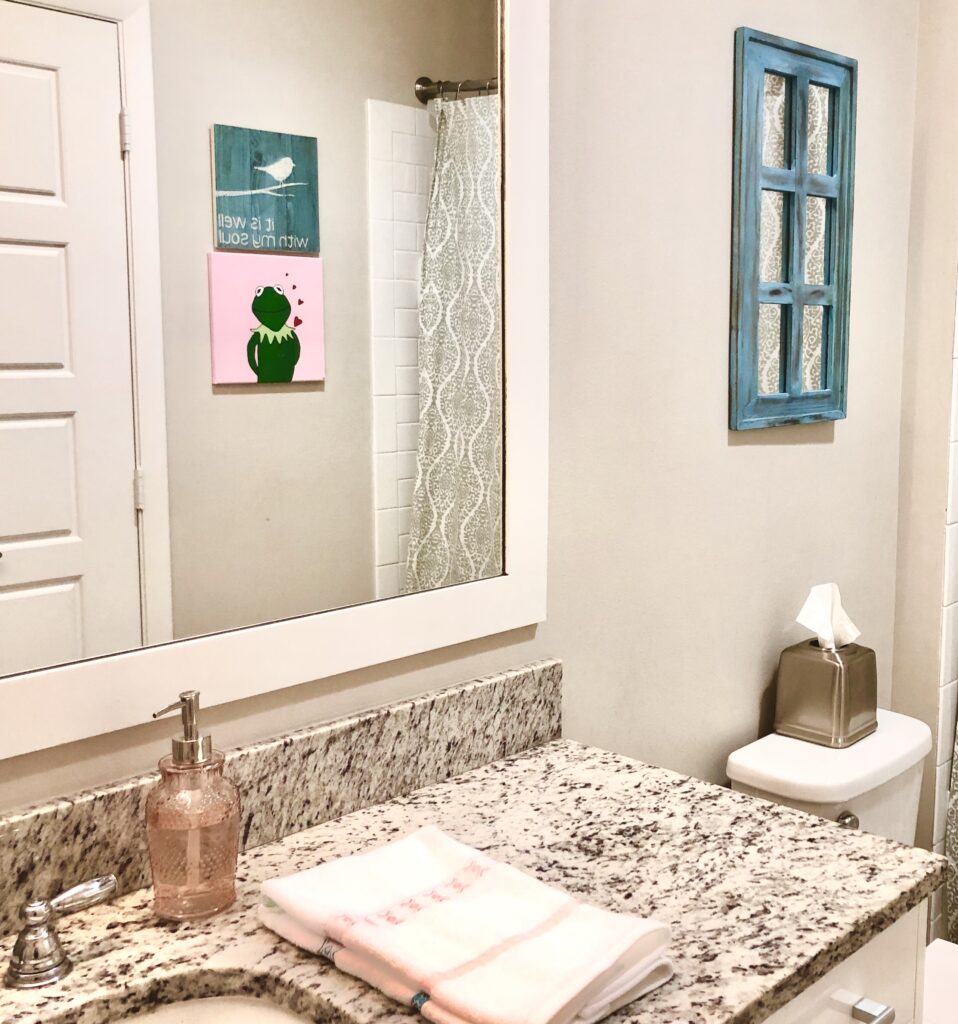 After we completed all the finishing touches in the indoor space of the condo, we symmetrically placed two wooden Adirondack chairs on the poolside balcony privately covered by palm fronds. We specifically chose a "see through" table so the tropical view from inside the condo would not be blocked from any angle. Outdoors we added a giant fan, a citronella candle, comfy seating pillows, and "voila!" — this vacay spot" became a home. Finally, there was only one thing left to do…
Go to the beach of course!!!